I missed Saturday Sky - it was dull, grey, misty, rainy. Decided that wouldn't add much color to the Saturday Blog World, so I skipped it.
Mom and I ventured out into the misty day and did a little browsing, a
little
lot of shopping and ate out instead of making dinner. Our first stop was a Home Party Show at a local church. Twenty-five companies were represented from The Pampered Chef(r) (unfortunately, not me - some other consultant got there first) to Tupperware to Linen World (which was new to me, buy quilts and pillows and throws at a party, in your home - odd). A local vendor was there as well... she isn't a home party company (direct sales), but she has a business out of her home. It isn't a craft business, so she can't be in the November craft show, so they fit her in here. It was interesting.
Next, we went to Tia's Tex-Mex Restaurant for lunch/dinner (whatever you call a meal you eat at 3:30 PM! :)) Mom had received a gift certificate for her birthday last March and wanted to spend it.
Then we went to Macy's (formerly Hecht's) where Estee Lauder was giving away a free gift with purchase (Mom uses their make-up and needed some and she only ever buys it when EL is giving away goodies). Macy's was also having an
American Heart Association Fundraiser
- for a $5.00 donation you got a 10 - 20% off certificate to use for shopping that day. So, we donated and browsed and I found clothes that fit (YEA!) and soft towels and a soft throw and feather pillows -- and I donated to Macy's as well! :) (Oh, and some of my finds were CHRISTMAS presents!)
I've also been knitting - mittens -
Dave
started something with his Bitchin' Mittens contest!
I ran across a blog message that sent me here
Six Pair Challenge
. The challenge was issued in June for six pairs of mittens to be knitted and sent along by October 1. Well, I only discovered it on 9/16 - so I doubt I'll have six pair by the deadline, but I cast on for a pair Saturday night and got about 3/4 through mitten number 1 using one of Bev's
patterns
. It means I have to seam... not really my cup of tea. But the mitten is coming along nicely.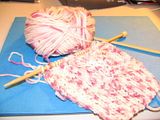 Click for larger image

I was heading to a picnic today and the pink and white mitten needed too much attention so I decided to try the
Plaid Mitten
(my Bitchin' Mitten entry) pattern with smaller yarn (Worsted Weight instead of Chunky) and smaller dpns (US7 instead of US10.5) and see how it would turn out. Waiting for the food to be served at the picnic, I cast on for smaller mittens - knitting in public. Lots of questions, little progress! But it got me going. I hope to have at least these two pairs ready to send off for the October 1 deadline.
Click for larger image