I am teaching my almost-16 yo son to drive. He has a bit of a problem with what is left and what is right! :) So, in honor of the
ordeal
teaching moments, I have knitted some driving assistance for him.
Using the
Plaid Mitten
pattern from the blue blog patterns; Debbie Bliss Chunky Merino in both brown and charcoal; embellishing with Berroco Suede embroidered letters, I present to you my first pair of mittens (Click for Larger Image):
The Pair: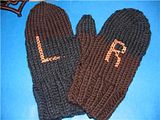 Showing the Rights: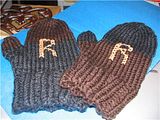 Showing the Lefts:
The mittens may be worn on either hand - no need to tell the right mitten from the left mitten. If your thumb is in the
right
correct place, the correct letter is showing to tell you which way to go. I thought opposite colors on each would make an interesting directional statement - sort of up and down, left and right. The Suede was used to add sort of a non-slick palm treatment, in case these are ever actually used to drive!
As with all things knitterly, this was not a smooth sail for me. I did drop a dpn or two a time or two -- but that was to be expected, being very new at all dpn knitting. The BIGGEST issue I encountered was the loss of the first mitten. In a
previous blog po
st, I displayed my first mitten ~ sans embroidery and thumb. I pointed out the M1L error, planning on leaving the 'air holes' as a design element instead of tinking back. I was proud of that first mitten. I carried it in the knitting bag to compare to the second, to be sure the cuffs and color changes were in the same place. I compared cuffs last Thursday ON THE BUS. And where did mitten number 1 stay?? ON THE BUS! :( Waaaaaaaaaa!
I only ride that particular bus on Thursdays (it's an early bus), so I knew all was lost and I would need to knit a third mitten (Sniff!). You see here today Mittens 2 and 3 - presenting all their glory in honor of the lost mitten.